Acoustic Paneling
All spaces have their own unique acoustic profile. While AV systems allow us to amplify and manipulate sound, acoustic panels are often a key component when it comes to designing the perfect sound experience.
Where we use Acoustic Panels
The real challenge in most of our projects is to design all acoustic aspects of a room for its intended purpose. To achieve that, it's not only about the AV system. The art is in directing, absorbing and manipulating sound from all sources within the space. It all depends on the room and its intended purpose. Let us give you a few examples.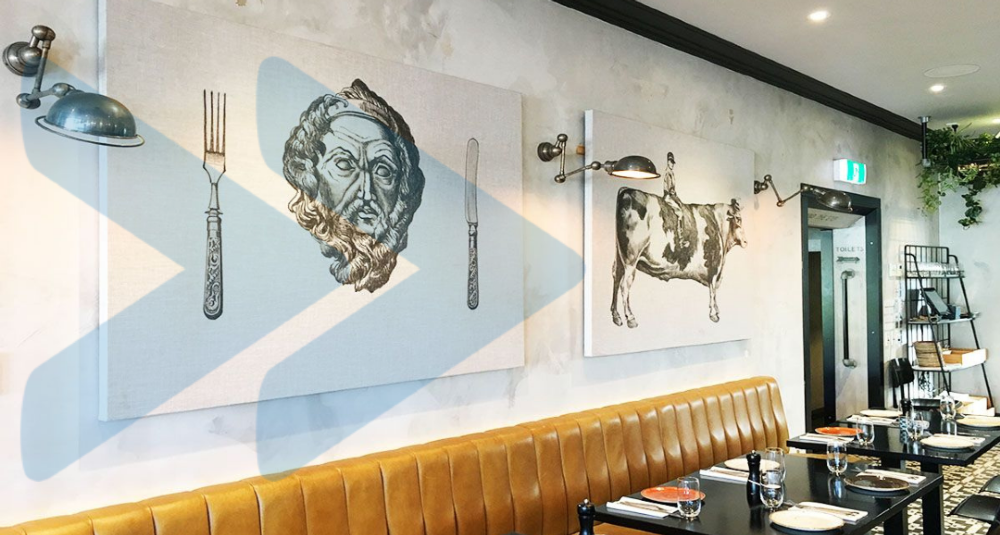 Better Acoustics in Cafes and Restaurants
We've all been there: you're catching up with a friend over drinks, and the bar is loud. You find yourselves leaning across the table, yelling at each other to keep the conversation going. It's fun for a while, but becomes tiring quickly. Research has shown that we are more inclined to consume faster (both food and drinks) in louder surroundings, which is certainly a nice effect for the bar's owner. It may not help deepen your friendships however. The other end of the spectrum is equally uncomfortable: too little background sound can make it awkward to keep a conversation going. 
Any well designed hospitality space will need to consider the room's acoustic profile. Modern interiors often work with lots of smooth, hard surfaces. They look great, but don't absorb sound, reflecting it instead and therefore creating harsh acoustics. While AV systems and smart positioning of speakers are part of the puzzle, adding acoustic paneling in the right locations and orientation can dramatically improve your control over the room's atmosphere. It's that combination of taking away unwanted sound reflection and adding music that really adds to the overall feel of a cafe or restaurant.
Keep Co-Workers Happy in Office Spaces
Modern interior design for office spaces tends to be open and minimal, with clean lines and hard materials used for floor coverings and in office furniture. Particularly in open plan office spaces, acoustics can get out of control as the sound of conversations bounces around the room. The result: stress levels rise among co-workers, which can in turn lead to a decrease in employee satisfaction.
Installing acoustic panels gives you control over a room's acoustic profile, absorbing unwanted sound reverberation and even providing you with acoustic room dividers. This can give your team a sense of privacy and calm without compromising on the open flow and design.
Before and After: Hear the Difference of Acoustic Panels
Hybrid Meetings: Redesigning Conference Rooms
Another challenge we frequently come across stems from the recent surge in holding meetings virtually. The most common scenario is a hybrid meeting: some colleagues work in an office space, while other team members work from home or in other offices around the country. The same is true for conversations with clients, manufacturers, or service providers. Hybrid meetings are the new normal, and they carry with them added requirements for meeting rooms or huddle spaces.
Chances are you have experienced first-hand how frustrating a hybrid meeting can be when the audio is awful and echoey for the virtual participants, while the in-person attendees march on through the agenda. In addition to using the right technology for video conferences, acoustic paneling can be immensely helpful to achieve equal audio quality for virtual and in-person attendees.
Acoustic Challenge of Large Spaces
Large spaces like churches, auditoriums, or gyms come with their own set of acoustic challenges. Sound waves have a lot of space to travel through, and large hard surfaces to bounce off. These issues multiply when sound is amplified with the help of microphones and speakers.
Enter: acoustic paneling! By positioning these panels, whose design matches perfectly the interior of the room, we are able to control the room's acoustic profile to a much higher degree. The result is well balanced room acoustics, with speech easily audible wherever you happen to stand or sit. 
A recent example of our work in gym spaces: we installed T&R quiet board acoustic panels in the designated indoor cycling room of a prominent Dunedin gym. With two of the four walls made entirely of glass, and instructors using a speaker system during classes, sound was reverberating through the room. Installing the panels gave us control over the absorption and direction of sound, improving the experience of gym goers and instructors alike.
Next Level Home Theatre
What works in a commercial or office, can also be applied to your home theatre setup. Modern interior design at home often comes with an open plan layout. Especially if you don't have a separate room for your home theatre, the use of acoustic panels gives you more control over which sounds are absorbed, reverberated or bounced off hard surfaces. This way, we can get the very best performance out of your home theatre system, and bring the movie experience to your home.
Making the popcorn is still up to you though!
Subtle or Bold: Acoustic Panels to Suit Your Interior Design
The lines of acoustic panels available to Vision allow us to manipulate a room's acoustics significantly, and they can tie in with any design. Our suppliers have a large selection of shapes, materials and colours, and you can even choose to have your panels custom printed. Got a space that would benefit from an acoustic makeover? Get in touch with the team at Vision, and let's talk!