Video conferencing
When our country started the fight against the Covid-19 pandemic in early 2020, many of us were scrambling to figure out how to set up video conferencing for our businesses. Zoom meetings and other forms of digital conversations were essential to keep things running. As we adjust to a new version of normal life, businesses around the country are defining what "business as usual" will look like going forward.
No matter the sector your business operates in, chances are some of your meetings will remain virtual.
So why not improve your video conferencing set-up now? You'll increase your efficiency, and look more professional. These are the video conferencing settings we can help with:
Meeting your needs and exceeding your expectations is what drives us. Vision's project managers start every consultation with an assessment. Here's what you can expect from a consultation, depending on your video conferencing space.
Working from home: the professional video conferencing set-up
There are lots of factors to consider when you want to get the most out of video calls or webinars you take from home. Here are some of the questions we'll ask to define your needs:
Are your virtual meetings free of background noise?
Can you hear the participants clearly? Can they hear you clearly?
Our project managers can assess your set-up including lighting and backdrop, camera angle and acoustic signature of your home office or work space. From there, we'll give you tips and recommendations on how to improve your set-up to suit your needs and budget - you'll be surprised at the difference we can make, no matter your budget.
Email us or call 0800 508 538 to book your 15-minute free consultation.
In your open plan office: make the most of huddle spaces 
Your team may be distributed across multiple locations, or you may have clients based elsewhere in New Zealand or the world. If yours is an agile work environment, frequent catch ups are important to keep the project moving. A huddle space or huddle room, often in the corner of an open plan office, is a great spot for these digital meetings. But it comes with its own set of audio visual challenges. You should aim to:
Minimise background noise picked up by the microphone
Create even lighting for all participants 
Make the backdrop less distracting
Our project managers can assess your huddle space and recommend suitable camera and microphone options, and we'll give you additional tips to make the most of the space. As preferred suppliers for many quality brands, we'll suggest hardware that fits your needs and your budget. A possible solution is a soundbar like the one below, from the Crestron Smart Soundbar Series, which combines audio and video. 
Video conferencing for groups of up to 12 people
Whether it's a boardroom, training room or multi-purpose space, your meeting room needs to be versatile. This should include the option of combined in-person and virtual meetings. When upgrading your meeting room, here are some of the aspects we take into consideration:
Position of windows and how they affect lighting and backdrop.
Seating arrangement, possible locations of atttendees speaking. 
Every room has its own acoustic signature which is influenced by wall and floor surfaces, windows and furniture. This acoustic signature greatly influences the performance of any video conferencing technology.
Which camera angles and number of cameras are required? Maybe your best option is intelligent cameras that pick up movement and audio?
Trying to find the right audio visual hardware can be daunting, with endless possibilites available. What it comes down to is experience. It really makes all the difference when defining the technology brand and models that are ideal for your meeting room. So why not get the experts in?
Book a consultation with one of Vision's project managers.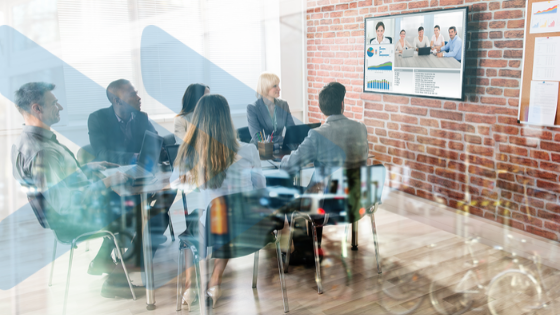 Large meeting rooms for 20 to 200+ people
In large meeting rooms and theatres, it's a challenge to give both the physical and virtual audience a great audio visual experience. The acoustic signature of the room becomes essential to define the hardware needs for exceptional video and audio. Cameras and microphones have to work alongside of speakers and other equipment.
Our team have designed and installed solutions for settings like:
Panel settings, with horse shoe seating
Lecture theatres and auditoriums
large open plan spaces with multiple purposes
We always start with our client's needs and then recommend brands that get the most out of your space. Microphones with audio tracking, smart cameras that respond to movement, and automated switching between video feeds allow us to orchestrate a great experience for all involved.
Book a consultation with one of Vision's project managers.
Video conferencing hardware: Proudly installing the world's top products
When you ask us "What's the best video conferencing hardware?", chances are we'll answer "it depends" and ask a bunch of questions in return to figure out your exact requirements. There's no one-size-fits-all. But let us introduce some of our favourite hardware.
Crestron's Flex Systems
The Crestron Mercury tabletop system allows you to manage all your meeting room tech from one touch screen console. It comes with full-duplex wideband audio, speakerphone and video conferencing; you can share content, enable web collaboration. You can also bring your own device (BYOD) as the Mercury can connect to any content source via USB or bluetooth. 
With the Crestron Flex Wall Mounted system for Microsoft Teams software, you'll get every last bit out of your collaborations via Microsoft Teams. The Crestron Smart Soundbar and camera deliver exceptional video and audio, and the 10.1 in touch screen lets you integrate your choice of hardware like displays, cameras, mixers, and audio conferencing interface.
Yamaha's CS-700 for huddle rooms
Custom made for huddle rooms and smaller meeting rooms, the Yamaha CS-700 is an all-in-one solution with outstanding audio and video. It works great with Zoom, Microsoft Teams and lots of other collaboration software applications.