Breesy Studio: A Passion for Music
Thursday, 24 September 2020
We always get excited when we can help people with a passion. This one is a beauty: a music studio in a shipping container, in Mosgiel, Dunedin. Breesy is an indie singer/songwriter who has been writing and playing his own music since he was 10 years old. A lot of hard work allowed Breesy to make his dream of owning his own studio come true.
Once the container was on site, Breesy contacted Vision and from there Gustav, one of our Project Manager's supported bringing the studio to life.
Glen went to see Breesy and ask him a few questions about his experience building his own studio from scratch.
Glen: "What problem were you trying to solve when you contacted Vision?"
Breesy: "I didn't really have enough knowledge to choose all the right hardware for my new studio, especially the high end gear I was after. I originally came to Vision for advice only, and was very pleased they could also supply, install and set up professional equipment."
Glen: "Did Vision solve your problems?"
Breesy: " It was a great bonus to have this high calibre knowledge available. VIsion gave me many options, and great support options, too. They knew knew which brands to trust."
Glen: "Was there a particular part of the project that stands out for you?"
Breesy: "Yes, the JBL speakers are awesome. But the biggest surprise was the AKG condenser microphone that Vision recommended, it's spectacular!" (Breesy went with the AKG C414XL)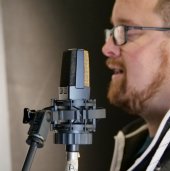 Glen: "What was your biggest challenge with the project?"
Breesy: "Sticking to my budget, both with the building and the technical equipment."
Glen: "Any additional comments?"
Breesy: "Yes, I can concentrate on music now, not the technical setup. Vision took care of that. Vision being local was a huge bonus, and I certainly finished with "more than I imagined".  Yes, he really said that :)
Find Breesy's music on Spotify, or visit his own website for more.